Save the date!! Honda Rock The Red is coming back!  Our very own Mark "Kramer" Kruger and Sandy Lum will be competing in the Gymkhana Competition!
Where: Fraser Downs 17755 60 Avenue Surrey, BC V3S 1V3
Rock the Red. A Uniquely Honda Experience.
This riding season Canadians are invited to discover the thrill of participating in Honda's freshest, fun-filled, family-focused event. Announcing the return of Rock the Red, a one-day FREE event featuring a Gymkhana skills competition. Back by popular demand with stops at  venues across the country, this adrenaline-pumped affair offers thrills for the whole family.
Come out to watch and cheer as skilled riders, showcasing their performance through an obstacle course and striving for the quickest time possible, put Honda motorcycles to the test.
And that's not all - the event will be taken over by a celebration of all things red. This means participants can take the latest Honda motorcycles and ATVs for a test ride, visit power equipment demos and Vendor Alley, or have your children participate in Junior Red Riders.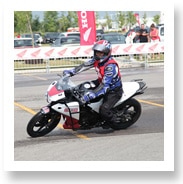 Gymkhana Skills Competition
Gymkhana is a type of motorsport that takes riders through a complex obstacle course featuring tight twists and turns. Gymkhana events are timed as the rider manoeuvres through a track performing different driving techniques including 180º and 360º spins, parking boxes, figure eights and other advanced skills. The ability to memorize the course contributes greatly to the rider's ability to obtain a high score. Come witness the agility of Honda bikes, and the skill of the riders, as they push their limits in locations all across the country.
May 23rd, 2015 – Surrey, BC
---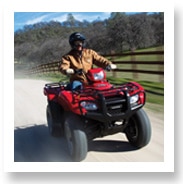 ATV Test Ride
Discover the fun and excitement of Honda ATVs in the ATV test area. Test ride some of the newest ATVs from the 2014 lineup and discover the right wheels for you. With utility, recreation and sport style ATVs there is sure to be a ride that fits your lifestyle. Registration to test the ATVs is on-site at the event. If you are interested in participating in this event, please print/sign this waiver form and submit at the Rock the Red event pre-registration desk.
---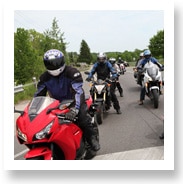 Come Ride With Us
Find out when the Honda Come Ride With Us events team will be at a participating Honda dealer near you for the chance to take your motorcycle experience out of the showroom and onto the open road. Come Ride With Us is your chance to get up close and personal with the all-new, 2014 Honda street lineup so you can decide which one suits you and your unique riding style. Registration is on-site; just bring your proper gear and your motorcycle licence. If you can't make it to this event, find out when and where the next Come Ride With Us is taking place. If you are interested in participating in this event, please print/sign this waiver form and submit at the Rock the Red event pre-registration desk.
---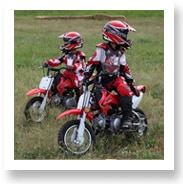 Junior Red Riders
Here's to the next generation of riders! The Junior Red Riders is a complete experience designed for kids aged 6 to 12 who can already ride a two-wheeled bicycle, but dream of one day upgrading to a motorcycle. The instructors take a fun-first approach to their lessons, and with all the proper gear and bikes supplied as part of the experience, all your child needs to bring along is the desire to make friends and have a whole lot of fun! If you are interested in participating in this event, please print/sign this waiver form and submit at the Rock the Red event pre-registration desk.
---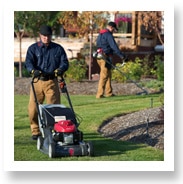 Power Equipment Demos
There is something to be said about the quality of Honda Power Equipment products. They are durable, reliable and, of course, equipped with a trusted Honda engine. Discover why choosing 100% Honda Power Equipment products ensures the performance you expect. At the Rock the Red event, watch a demonstration by a Honda professional trainer and also get a chance to test water pumps, generators and lawn equipment first-hand. Speak with one of our knowledgeable event staff who can help answer any of your maintenance or project questions.
---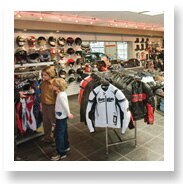 Vendor Alley
Add to your Honda experience. The best dealers can be found in Vendor Alley, offering products and services like gear and accessories or the open road insurance program. Don't have your motorcycle licence yet? Speak to a local motorcycle training school on-site and find out how easy it is to get on two wheels. We have taken everything you need and brought it to one place. Be sure to make Vendor Alley a must visit area of the Rock the Red event.